As a beautiful coastal city, Zhuhai has enchanting natural scenery and abundant historical sites. Apart from that, colorful recreational attractions also enable you to enjoy the life to a full extend. Here are some selected tour sites for your references if you want to travel around the city.

Recreational Attractions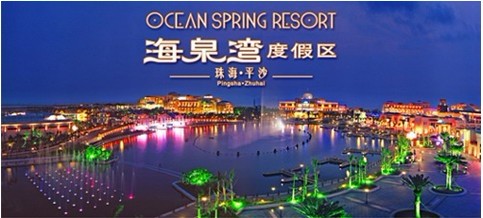 Ocean Spring Resort (Haiquan Bay Resort Town):
Located in the western part of Zhuhai, Ocean Spring Resort is the first "national demonstration zone of tourism and leisure" awarded by National Tourism Administration, and is a masterpiece constructed by Hong Kong China Travel Group following the construction and development of Shenzhen OCT, Window of the World, Splendid China.
The ocean spa covers 4 sq. m. It contains 60 kinds of hot springs with different styles, absorbs the essence of the culture of the hot spring in the world and let you enjoy the culture of the hot spring in the world without going abroad.
Traffic reference: Bus No. 608, or go to Xiangzhou Bus Station take the Fast Non-stop Bus.


Zhuhai Imperial Hot Spring (Yu Wenquan) is one of the most famous hot springs in Guangdong and is also the first Japanese-style open hot spring in China with over 20 kinds of health care functions.
Zhuhai Imperial Hot Spring Resort is a four-star resort that incorporates the medical and health care science of China and foreign nations, historical sites and modern garden arts. It provides a healthy and leisure health preserving place for tourists.
Traffic reference: Bus No. 609.